Mens Travel Pants
Explore Western Rise's men's travel pants: lightweight, quick-dry, stretch and comfortable. Our collection features versatile travel dress and outdoor trousers, chino and joggers pants, ideal for stylish, wrinkle-free travel.
Durable
Lightweight
Wrinkle Resistant
Pack Small
Give the Gift of Travel
Find gifts that perfectly fit his style (and your budget) guaranteed to help skip the security line.
Filters
25% Off
25% Off
25% Off
25% Off
25% Off
25% Off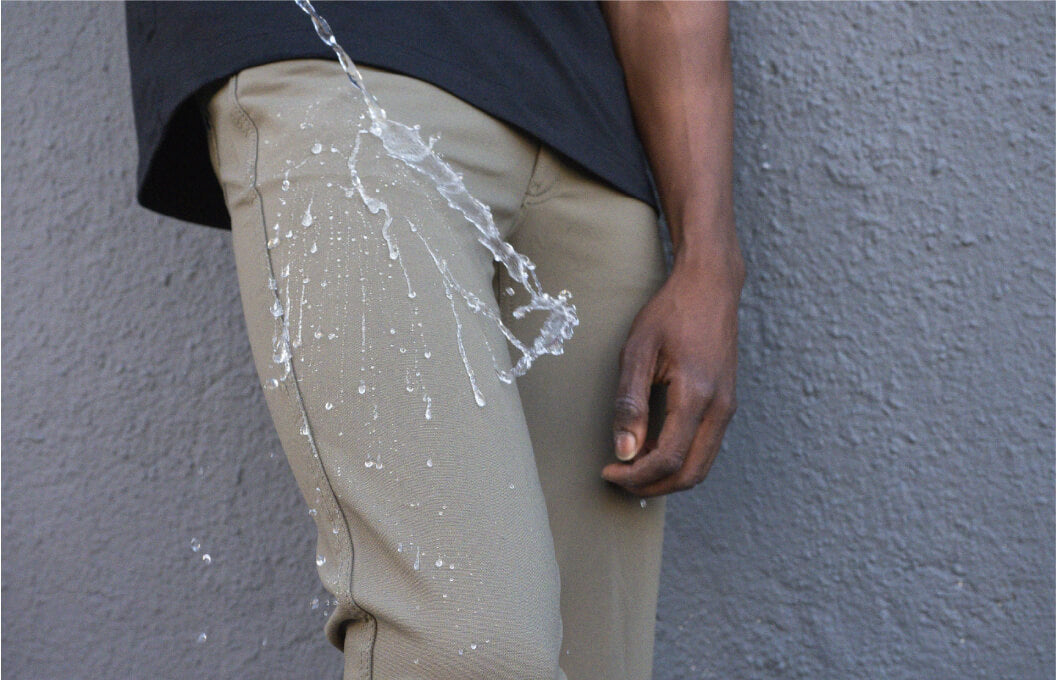 Why Western Rise
Travel Light: Performance fabrics enable a one-bag travel lifestyle.
Versatile Style: Outfits easily transition from business to adventure.
Functional Comfort: Smart features for enhanced mobility and convenience.
Worry-Free Returns: Hassle-free return policy for peace of mind.
Sustainable Choice: Quality apparel that's environmentally responsible.
Frequently Asked Questions
Travel pants are specially designed pants for travelers. They typically feature lightweight, stain-resistant, stretch and wrinkle-resistant materials, providing comfort and convenience during journeys. Travel trousers are versatile, suitable for various activities and climates.
What are different types of travel pants?

Different types of travel pants cater to various needs and styles, including:

Chino Pants: Known for their multiple pockets, chino pants are great for carrying essentials conveniently as Western Rise Evolution Chino.
Jogger Pants: Offering a blend of comfort and style, jogger pants are versatile and often feature elastic cuffs and waistbands as our Spectrum Joggers.
Performance Pants: These are designed for active travel, offering features like stretchability, moisture-wicking, and quick-drying properties as AT Pant.
Leggings or Tights: Popular for their comfort and flexibility, they are a preferred choice for casual travel and outdoor activities.

Each type offers unique features like stretchability, moisture-wicking, quick-drying properties, and varying levels of formality, catering to different travel needs and preferences.
Which pants is best for travel?

The ideal travel pants for men combine practical features like multiple pockets for convenience, waterproof or water-resistant materials to handle different weather conditions, and breathable fabrics to ensure comfort during long periods of wear. Additionally, pants with security features like hidden or zippered pockets are excellent for keeping valuables safe while on the move. These features, combined with a comfortable fit, make for the perfect travel trousers.
Which fabrics are the best for travel trousers?

The best fabrics for travel trousers are typically lightweight, durable, and quick-drying, such as nylon and polyester. Blends that include spandex or elastane offer added stretch for comfort and ease of movement. Additionally, merino wool is a great choice for its temperature-regulating and odor-resistant properties, making it ideal for varying climates and extended wear.
What features make Western Rise travel pants great for travel?

Western Rise travel pants for men excel in travel due to their innovative design, offering features like stain and water resistance for durability in various conditions. They also include hidden zipper pockets for added security and a stylish design that doesn't compromise functionality. These most comfortable pants for men are a top choice for travelers seeking a blend of performance, comfort, and style.
What types of fits do we offer for different preferences and comfort?

At Western Rise, we offer the Evolution Pant and Diversion Pant Classic Fit in our collection, designed for a relaxed and comfortable experience with additional room in the hips and thighs. Alongside this, our iconic Slim Fit remains a staple, ideal for those who prefer a more tapered look, ensuring our travelers have a range of stylish and comfortable options for their journeys.
Variants (ALL)
41962026369207, 41962026401975, 41962026434743, 41962026467511, 41962026500279, 41962026533047, 41962026565815, 41962026598583, 41962026631351, 41962026664119, 41962026696887, 41962026729655, 41962026762423, 41962026795191, 41962026827959, 41962026860727, 41962026893495, 41962026926263, 41962026959031, 41962026991799, 41962184573111, 41962184605879, 41962184638647, 41962184671415, 41962184704183, 41962184736951, 41962184769719, 41962184802487, 41962184835255, 41962184868023, 41962184900791, 41962184933559, 41962184966327, 41962184999095, 41962185031863, 41962185064631, 41962185097399, 41962185130167, 41962185162935, 41962185195703, 41920094372023, 41920094404791, 41920094437559, 41920094470327, 41920094503095, 41920094535863, 41920094568631, 41920094601399, 41920094634167, 41920094666935, 41920094699703, 41920094732471, 41920094765239, 41920094798007, 41920094830775, 41920094863543, 41920094896311, 41920094929079, 41920094961847, 41920094994615, 41287285375159, 41516352929975, 41381934694583, 41516352962743, 41287285440695, 41516352995511, 41381963727031, 41516353028279, 41287285506231, 41516353061047, 41287285538999, 41516353093815, 41287285571767, 41516353126583, 41287285604535, 41516353159351, 41287285637303, 41516353192119, 41287285670071, 41516353224887, 41382533955767, 41817616515255, 41382534119607, 41817616548023, 41282174910647, 41817616580791, 41282176778423, 41817616613559, 41282176843959, 41817616646327, 41282177335479, 41817616679095, 41282177401015, 41817616711863, 41282177925303, 41817616744631, 41282181267639, 41817616777399, 41382456033463, 41817616810167, 31734708437057, 41810462048439, 31734708535361, 41810462081207, 31734708633665, 41810462113975, 31734708731969, 41810462146743, 31734708830273, 41810462179511, 40978035933367, 41810462212279, 40978037309623, 41810462245047, 40978038423735, 41810462277815, 40978039996599, 41810462310583, 40978042683575, 41810462343351, 31734708404289, 41810462703799, 41382535266487, 41810462736567, 41382535856311, 41810462769335, 31734708699201, 41810462802103, 31734708797505, 41810462834871, 41808055664823, 41810463195319, 41808055697591, 41810463228087, 41808055730359, 41810463260855, 41808055763127, 41810463293623, 41808055795895, 41810463326391, 41808055828663, 41810463359159, 41808055861431, 41810463391927, 41808055894199, 41810463424695, 41808055926967, 41810463457463, 41808055959735, 41810463490231, 40647494500535, 41810462376119, 40647500890295, 41810462408887, 40647507378359, 41810462441655, 40647513702583, 41810462474423, 40647520256183, 41810462507191, 41574007472311, 41810462539959, 41574007505079, 41810462572727, 41574007537847, 41810462605495, 41574007570615, 41810462638263, 41574007603383, 41810462671031, 37966518812855, 41810462867639, 37966524448951, 41810462900407, 37966526513335, 41810462933175, 37966528676023, 41810462965943, 37966532083895, 41810462998711, 41411884875959, 41940106117303, 41411884908727, 41940106150071, 41411884941495, 41940106182839, 41411884974263, 41940106215607, 41411885007031, 41940106248375, 41411885039799, 41940106281143, 41411885072567, 41940106313911, 41411885105335, 41940106346679, 41411885138103, 41940106379447, 41411885170871, 41940106412215, 41411885236407, 41940106444983, 41411885301943, 41940106477751, 41411885367479, 41940106510519, 41411885433015, 41940106543287, 41411885531319, 41940106576055, 41411885662391, 41940106608823, 41411885727927, 41940106641591, 41411885596855, 41940106674359, 41411885793463, 41940106707127, 41411885858999, 41940106739895, 41411885924535, 41940106772663, 41411885990071, 41940106805431, 41411886088375, 41940106838199, 41411886121143, 41940106870967, 41411886186679, 41940106903735, 41411886252215, 41940106936503, 41411886317751, 41940106969271, 41411886383287, 41940107002039, 41411886481591, 41940107034807, 41411886514359, 41940107067575, 41411886612663, 41940107100343, 41411886678199, 41940107133111, 41411886776503, 41940107165879, 41411886842039, 41940107198647, 41411886907575, 41940107231415, 41411886973111, 41940107264183, 41411887038647, 41940107296951, 41411887104183, 41940107329719, 41411887169719, 41940107362487, 41411887202487, 41940107395255, 41919709937847, 41919709970615, 41919710003383, 41919710036151, 41919710068919, 41919710101687, 41919710134455, 41919710167223, 41919710199991, 41919710265527, 41919710298295, 41919710331063, 41919710363831, 41919710396599, 41919710429367, 41919710462135, 41919710494903, 41919710527671, 41919710560439, 41919710593207, 41732466933943, 41732469948599, 41732466966711, 41732469981367, 41732466999479, 41732470014135, 41732467032247, 41732470046903, 41732467065015, 41732470079671, 41732467097783, 41732470112439, 41732467130551, 41732470145207, 41732467163319, 41732470177975, 41732467196087, 41732470210743, 41732467228855, 41732470243511, 41919708135607, 41919708168375, 41919708201143, 41919708233911, 41919708266679, 41919708299447, 41919708332215, 41919708364983, 41919708397751, 41919708430519, 41919708463287, 41919708496055, 41919708528823, 41919708561591, 41919708594359, 41919708627127, 41919708659895, 41919708692663, 41919708725431, 41919708758199, 41919923650743, 41919923683511, 41919923716279, 41919923749047, 41919923781815, 41919923814583, 41919923847351, 41919923880119, 41919923912887, 41919923945655, 41919923978423, 41919924011191, 41919924043959, 41919924076727, 41919924109495, 41919924142263, 41919924175031, 41919924207799, 41919924240567, 41919924273335, 41919920832695, 41919920865463, 41919920898231, 41919920930999, 41919920963767, 41919920996535, 41919921029303, 41919921062071, 41919921094839, 41919921127607, 41919921160375, 41919921193143, 41919921225911, 41919921258679, 41919921291447, 41919921324215, 41919921356983, 41919921389751, 41919921422519, 41919921455287, 41919912542391, 41919912575159, 41919912607927, 41919912640695, 41919912673463, 41919912706231, 41919912738999, 41919912771767, 41919912804535, 41919912837303, 41919912870071, 41919912902839, 41919912935607, 41919912968375, 41919913001143, 41919913033911, 41919913066679, 41919913099447, 41919913132215, 41919913164983, 41908232650935, 41908232683703, 41908232716471, 41908232749239, 41908232782007, 41908232814775, 41908232847543, 41908232880311, 41908232913079, 41908232945847, 41908232978615, 41908233011383, 41908233044151, 41908233076919, 41908233109687, 41908233142455, 41908233175223, 41908233207991, 41908233240759, 41908233273527, 41960994111671, 41960994144439, 41960994177207, 41960994209975, 41960994242743, 41960994275511, 41960994308279, 41960994341047, 41960994373815, 41960994406583, 41960994439351, 41960994472119, 41960994504887, 41960994537655, 41960994570423, 41960994603191, 41960994635959, 41960994668727, 41960994701495, 41960994734263, 41961165652151, 41961165684919, 41961165717687, 41961165750455, 41961165783223, 41961165815991, 41961165848759, 41961165881527, 41961165914295, 41961165947063, 41961165979831, 41961166012599, 41961166045367, 41961166078135, 41961166110903, 41961166143671, 41961166176439, 41961166209207, 41961166241975, 41961166274743, 41919705317559, 41919705350327, 41919705383095, 41919705415863, 41919705448631, 41919705481399, 41919705514167, 41919705546935, 41919705579703, 41919705612471, 41919705645239, 41919705678007, 41919705710775, 41919705743543, 41919705776311, 41919705809079, 41919705841847, 41919705874615, 41919705907383, 41919705940151, 41920090931383, 41920090964151, 41920090996919, 41920091029687, 41920091062455, 41920091095223, 41920091127991, 41920091160759, 41920091193527, 41920091226295, 41920091259063, 41920091291831, 41920091324599, 41920091357367, 41920091390135, 41920091422903, 41920091455671, 41920091488439, 41920091521207, 41920091553975, 41919908315319, 41919908348087, 41919908380855, 41919908413623, 41919908446391, 41919908479159, 41919908511927, 41919908544695, 41919908577463, 41919908610231, 41919908642999, 41919908675767, 41919908708535, 41919908741303, 41919908774071, 41919908806839, 41919908839607, 41919908872375, 41919908905143, 41919908937911, 41961182986423, 41961183019191, 41961183051959, 41961183084727, 41961183117495, 41961183150263, 41961183183031, 41961183215799, 41961183248567, 41961183281335, 41961183314103, 41961183346871, 41961183379639, 41961183412407, 41961183445175, 41961183477943, 41961183510711, 41961183543479, 41961183576247, 41961183609015, 41961393651895, 41961393684663, 41961393717431, 41961393750199, 41961393782967, 41961393815735, 41961393848503, 41961393881271, 41961393914039, 41961393946807, 41961393979575, 41961394012343, 41961394045111, 41961394077879, 41961394110647, 41961394143415, 41961394176183, 41961394208951, 41961394241719, 41961394274487, 41962033643703, 41962033676471, 41962033709239, 41962033742007, 41962033774775, 41962033807543, 41962033840311, 41962033873079, 41962033905847, 41962033938615, 41962033971383, 41962034004151, 41962034036919, 41962034069687, 41962034102455, 41962034135223, 41962034167991, 41962034200759, 41962034233527, 41962034266295, 41920084639927, 41920084672695, 41920084705463, 41920084738231, 41920084770999, 41920084803767, 41920084836535, 41920084869303, 41920084902071, 41920084934839, 41920084967607, 41920085000375, 41920085033143, 41920085065911, 41920085098679, 41920085131447, 41920085164215, 41920085196983, 41920085229751, 41920085262519, 41961199763639, 41961199796407, 41961199829175, 41961199861943, 41961199894711, 41961199927479, 41961199960247, 41961199993015, 41961200025783, 41961200058551, 41961200091319, 41961200124087, 41961200156855, 41961200189623, 41961200222391, 41961200255159, 41961200287927, 41961200320695, 41961200353463, 41961200386231, 41919670255799, 41919670288567, 41919670321335, 41919670354103, 41919670386871, 41919670419639, 41919670452407, 41919670485175, 41919670517943, 41919670550711, 41919670583479, 41919670616247, 41919670649015, 41919670681783, 41919670714551, 41919670747319, 41919670780087, 41919670812855, 41919670845623, 41919670878391, 41920079265975, 41920079298743, 41920079331511, 41920079364279, 41920079397047, 41920079429815, 41920079462583, 41920079495351, 41920079528119, 41920079560887, 41828285644983, 41828285710519, 41828285776055, 41828285841591, 41828285907127, 41828285972663, 41828286038199, 41828286136503, 41828286202039, 41828286267575, 41828126654647, 41828126687415, 41828126720183, 41828126752951, 41828126785719, 41828126818487, 41828126851255, 41828126884023, 41828126949559, 41828126982327, 41262994260151, 41391811362999, 41382385844407, 41391811395767, 41382386106551, 41391811428535, 41382386139319, 41391811461303, 41382386204855, 41391811494071, 41382386303159, 41391811526839, 41382386368695, 41391811559607, 41382386499767, 41391811592375, 41382049906871, 41391811625143, 41382049939639, 41391811657911, 41382126289079, 41382126387383, 41382126485687, 41382126583991, 41382126682295, 41382126780599, 41382126878903, 41382126977207, 41382127075511, 41382127173815, 8643173285996, 41382336626871, 31786655907905, 41382337839287, 31786668458049, 41382338625719, 41382338855095, 41382340329655, 8643173449836, 41382340690103, 30323060310081, 41382341738679, 41382342295735, 41382343082167, 41382343540919, 41382344261815, 41382345048247, 41382345113783, 41382345310391, 41382345343159, 8645165383788, 41382345408695, 41382345572535, 41382346162359, 41382346653879, 8645166039148, 31786675896385, 41382346686647, 41382347014327, 41382347440311, 41382126223543, 41382126321847, 41382126420151, 41382126518455, 41382126616759, 41382126715063, 41382126813367, 41382126911671, 41382127009975, 41382127108279, 41382126256311, 41382126354615, 41382126452919, 41382126551223, 41382126649527, 41382126747831, 41382126846135, 41382126944439, 41382127042743, 41382127141047,