Men's Travel Bottoms
Western Rise's pants and shorts combine performance textiles and versatile design to offer durable, comfortable, and stylish options for the modern, one-bag traveler.
Durable
Stain Resistant
Water Resistant
Pack Small
Give the Gift of Travel
Find gifts that perfectly fit his style (and your budget) guaranteed to help skip the security line.
Filters
25% Off
25% Off
25% Off
25% Off
25% Off
25% Off
25% Off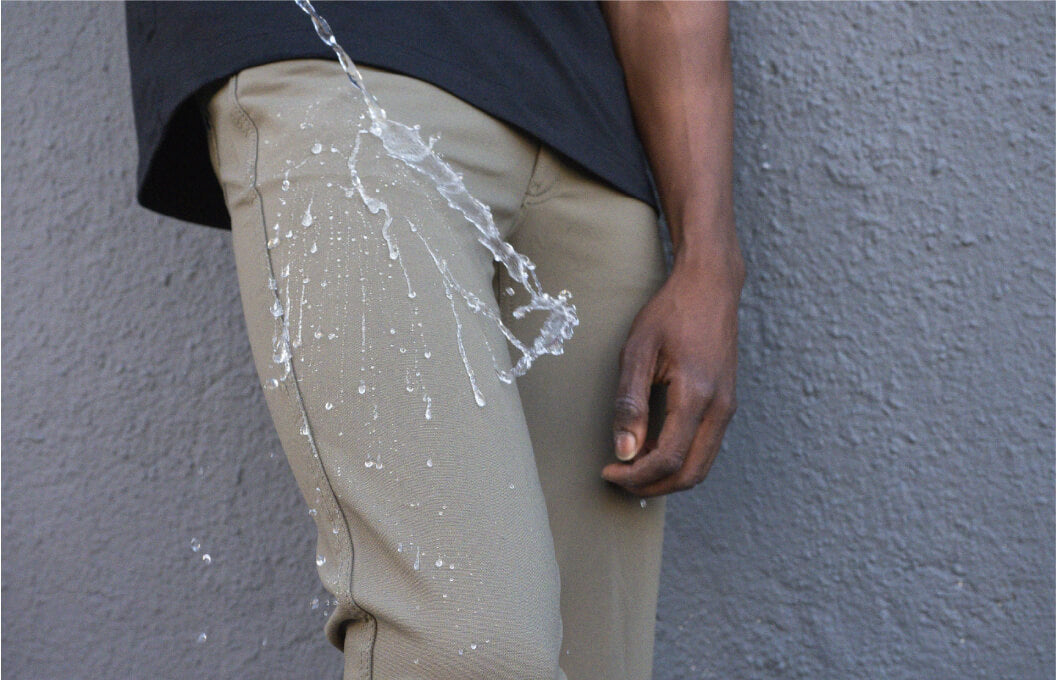 Why Western Rise
Travel Light: Performance fabrics enable a one-bag travel lifestyle.
Versatile Style: Outfits easily transition from business to adventure.
Functional Comfort: Smart features for enhanced mobility and convenience.
Worry-Free Returns: Hassle-free return policy for peace of mind.
Sustainable Choice: Quality apparel that's environmentally responsible.
Frequently Asked Questions
Travel pants are specially designed pants for travelers. They typically feature lightweight, stain-resistant, stretch and wrinkle-resistant materials, providing comfort and convenience during journeys. Travel trousers are versatile, suitable for various activities and climates.
What features do Western Rise travel pants have?

Western Rise travel pants are known for their innovative features. Our travel pants include stain and water resistance, hidden zipper pockets for security, and a stylish design that combines functionality with fashion. Our pants are a top choice for travelers seeking both performance and style.
Travel chinos are a type of travel pant that offers the classic and versatile look of khaki pants. They are typically made from lightweight materials, ensuring comfort on the go. Travel chinos often feature stain and water resistance, making them ideal for travel adventures.
What makes good travel shorts?

Good travel shorts should prioritize comfort and functionality. Look for shorts made from quick-drying materials to handle moisture, and consider options with zipper pockets for secure storage. Versatility in design allows you to wear them for various activities such as swimming during your travels.
Hybrid shorts are shorts that work as both swimwear and casual shorts and often made from quick-drying materials. These are great for beach trips that transition to other activities.
Variants (ALL)
41961393651895, 41961393684663, 41961393717431, 41961393750199, 41961393782967, 41961393815735, 41961393848503, 41961393881271, 41961393914039, 41961393946807, 41961393979575, 41961394012343, 41961394045111, 41961394077879, 41961394110647, 41961394143415, 41961394176183, 41961394208951, 41961394241719, 41961394274487, 41962184573111, 41962184605879, 41962184638647, 41962184671415, 41962184704183, 41962184736951, 41962184769719, 41962184802487, 41962184835255, 41962184868023, 41962184900791, 41962184933559, 41962184966327, 41962184999095, 41962185031863, 41962185064631, 41962185097399, 41962185130167, 41962185162935, 41962185195703, 41962033643703, 41962033676471, 41962033709239, 41962033742007, 41962033774775, 41962033807543, 41962033840311, 41962033873079, 41962033905847, 41962033938615, 41962033971383, 41962034004151, 41962034036919, 41962034069687, 41962034102455, 41962034135223, 41962034167991, 41962034200759, 41962034233527, 41962034266295, 41962026369207, 41962026401975, 41962026434743, 41962026467511, 41962026500279, 41962026533047, 41962026565815, 41962026598583, 41962026631351, 41962026664119, 41962026696887, 41962026729655, 41962026762423, 41962026795191, 41962026827959, 41962026860727, 41962026893495, 41962026926263, 41962026959031, 41962026991799, 41920094372023, 41920094404791, 41920094437559, 41920094470327, 41920094503095, 41920094535863, 41920094568631, 41920094601399, 41920094634167, 41920094666935, 41920094699703, 41920094732471, 41920094765239, 41920094798007, 41920094830775, 41920094863543, 41920094896311, 41920094929079, 41920094961847, 41920094994615, 41920079265975, 41920079298743, 41920079331511, 41920079364279, 41920079397047, 41920079429815, 41920079462583, 41920079495351, 41920079528119, 41920079560887, 41920090931383, 41920090964151, 41920090996919, 41920091029687, 41920091062455, 41920091095223, 41920091127991, 41920091160759, 41920091193527, 41920091226295, 41920091259063, 41920091291831, 41920091324599, 41920091357367, 41920091390135, 41920091422903, 41920091455671, 41920091488439, 41920091521207, 41920091553975, 41920084639927, 41920084672695, 41920084705463, 41920084738231, 41920084770999, 41920084803767, 41920084836535, 41920084869303, 41920084902071, 41920084934839, 41920084967607, 41920085000375, 41920085033143, 41920085065911, 41920085098679, 41920085131447, 41920085164215, 41920085196983, 41920085229751, 41920085262519, 41382533955767, 41817616515255, 41382534119607, 41817616548023, 41282174910647, 41817616580791, 41282176778423, 41817616613559, 41282176843959, 41817616646327, 41282177335479, 41817616679095, 41282177401015, 41817616711863, 41282177925303, 41817616744631, 41282181267639, 41817616777399, 41382456033463, 41817616810167, 41411884875959, 41940106117303, 41411884908727, 41940106150071, 41411884941495, 41940106182839, 41411884974263, 41940106215607, 41411885007031, 41940106248375, 41411885039799, 41940106281143, 41411885072567, 41940106313911, 41411885105335, 41940106346679, 41411885138103, 41940106379447, 41411885170871, 41940106412215, 41411885236407, 41940106444983, 41411885301943, 41940106477751, 41411885367479, 41940106510519, 41411885433015, 41940106543287, 41411885531319, 41940106576055, 41411885662391, 41940106608823, 41411885727927, 41940106641591, 41411885596855, 41940106674359, 41411885793463, 41940106707127, 41411885858999, 41940106739895, 41411885924535, 41940106772663, 41411885990071, 41940106805431, 41411886088375, 41940106838199, 41411886121143, 41940106870967, 41411886186679, 41940106903735, 41411886252215, 41940106936503, 41411886317751, 41940106969271, 41411886383287, 41940107002039, 41411886481591, 41940107034807, 41411886514359, 41940107067575, 41411886612663, 41940107100343, 41411886678199, 41940107133111, 41411886776503, 41940107165879, 41411886842039, 41940107198647, 41411886907575, 41940107231415, 41411886973111, 41940107264183, 41411887038647, 41940107296951, 41411887104183, 41940107329719, 41411887169719, 41940107362487, 41411887202487, 41940107395255, 41961165652151, 41961165684919, 41961165717687, 41961165750455, 41961165783223, 41961165815991, 41961165848759, 41961165881527, 41961165914295, 41961165947063, 41961165979831, 41961166012599, 41961166045367, 41961166078135, 41961166110903, 41961166143671, 41961166176439, 41961166209207, 41961166241975, 41961166274743, 41960994111671, 41960994144439, 41960994177207, 41960994209975, 41960994242743, 41960994275511, 41960994308279, 41960994341047, 41960994373815, 41960994406583, 41960994439351, 41960994472119, 41960994504887, 41960994537655, 41960994570423, 41960994603191, 41960994635959, 41960994668727, 41960994701495, 41960994734263, 41961182986423, 41961183019191, 41961183051959, 41961183084727, 41961183117495, 41961183150263, 41961183183031, 41961183215799, 41961183248567, 41961183281335, 41961183314103, 41961183346871, 41961183379639, 41961183412407, 41961183445175, 41961183477943, 41961183510711, 41961183543479, 41961183576247, 41961183609015, 41961199763639, 41961199796407, 41961199829175, 41961199861943, 41961199894711, 41961199927479, 41961199960247, 41961199993015, 41961200025783, 41961200058551, 41961200091319, 41961200124087, 41961200156855, 41961200189623, 41961200222391, 41961200255159, 41961200287927, 41961200320695, 41961200353463, 41961200386231, 41919709937847, 41919709970615, 41919710003383, 41919710036151, 41919710068919, 41919710101687, 41919710134455, 41919710167223, 41919710199991, 41919710265527, 41919710298295, 41919710331063, 41919710363831, 41919710396599, 41919710429367, 41919710462135, 41919710494903, 41919710527671, 41919710560439, 41919710593207, 41287285375159, 41516352929975, 41381934694583, 41516352962743, 41287285440695, 41516352995511, 41381963727031, 41516353028279, 41287285506231, 41516353061047, 41287285538999, 41516353093815, 41287285571767, 41516353126583, 41287285604535, 41516353159351, 41287285637303, 41516353192119, 41287285670071, 41516353224887, 41908232650935, 41908232683703, 41908232716471, 41908232749239, 41908232782007, 41908232814775, 41908232847543, 41908232880311, 41908232913079, 41908232945847, 41908232978615, 41908233011383, 41908233044151, 41908233076919, 41908233109687, 41908233142455, 41908233175223, 41908233207991, 41908233240759, 41908233273527, 41919670255799, 41919670288567, 41919670321335, 41919670354103, 41919670386871, 41919670419639, 41919670452407, 41919670485175, 41919670517943, 41919670550711, 41919670583479, 41919670616247, 41919670649015, 41919670681783, 41919670714551, 41919670747319, 41919670780087, 41919670812855, 41919670845623, 41919670878391, 41919705317559, 41919705350327, 41919705383095, 41919705415863, 41919705448631, 41919705481399, 41919705514167, 41919705546935, 41919705579703, 41919705612471, 41919705645239, 41919705678007, 41919705710775, 41919705743543, 41919705776311, 41919705809079, 41919705841847, 41919705874615, 41919705907383, 41919705940151, 41919708135607, 41919708168375, 41919708201143, 41919708233911, 41919708266679, 41919708299447, 41919708332215, 41919708364983, 41919708397751, 41919708430519, 41919708463287, 41919708496055, 41919708528823, 41919708561591, 41919708594359, 41919708627127, 41919708659895, 41919708692663, 41919708725431, 41919708758199, 31734708437057, 41810462048439, 31734708535361, 41810462081207, 31734708633665, 41810462113975, 31734708731969, 41810462146743, 31734708830273, 41810462179511, 40978035933367, 41810462212279, 40978037309623, 41810462245047, 40978038423735, 41810462277815, 40978039996599, 41810462310583, 40978042683575, 41810462343351, 31734708404289, 41810462703799, 41382535266487, 41810462736567, 41382535856311, 41810462769335, 31734708699201, 41810462802103, 31734708797505, 41810462834871, 41808055664823, 41810463195319, 41808055697591, 41810463228087, 41808055730359, 41810463260855, 41808055763127, 41810463293623, 41808055795895, 41810463326391, 41808055828663, 41810463359159, 41808055861431, 41810463391927, 41808055894199, 41810463424695, 41808055926967, 41810463457463, 41808055959735, 41810463490231, 40647494500535, 41810462376119, 40647500890295, 41810462408887, 40647507378359, 41810462441655, 40647513702583, 41810462474423, 40647520256183, 41810462507191, 41574007472311, 41810462539959, 41574007505079, 41810462572727, 41574007537847, 41810462605495, 41574007570615, 41810462638263, 41574007603383, 41810462671031, 37966518812855, 41810462867639, 37966524448951, 41810462900407, 37966526513335, 41810462933175, 37966528676023, 41810462965943, 37966532083895, 41810462998711, 41208407097527, 41382552502455, 41208408834231, 41208408965303, 41208408998071, 41208410538167, 41208410898615, 41208410931383, 41208411619511, 41208411750583, 41382548603063, 41382550995127, 41178339639479, 41091302097079, 41178416742583, 41091302195383, 41178419790007, 41382552010935, 41091302260919, 41091302293687, 41091302424759, 41091302457527, 41178303201463, 41091302490295, 41178305855671, 41091302523063, 41178333970615, 41382554009783, 41091302588599, 41091302621367, 41208412176567, 41208412373175, 41208412471479, 41208412930231, 41208413323447, 41208413388983, 41208413454519, 41208413618359, 41208413716663, 41208414896311, 41688225218743, 41688225251511, 41688225284279, 41688225317047, 41688225349815, 41688225382583, 41688225415351, 41688225448119, 41688225480887, 41688225513655, 41089360527543, 41382594674871, 41089372553399, 41089376190647, 41089380188343, 31734734618689, 31734734651457, 41382596346039, 31734734716993, 31734734749761, 31734734782529, 31734734815297, 31734734848065, 31734734880833, 31734734913601, 41285910167735, 41285910200503, 41285941199031, 41285910233271, 41285941231799, 41285910266039, 41285941264567, 41285910298807, 41285910331575, 41285910364343, 41382587924663, 41285909741751, 41285941297335, 41285909774519, 41285941330103, 41285909807287, 41285941362871, 41285909840055, 41285909872823, 41285909905591, 41285909938359, 41382587990199, 41285941395639, 41285910003895, 41285941428407, 41285910036663, 41382588055735, 41285910069431, 41382588088503, 41285910134967, 41688240226487, 41688240259255, 41688240292023, 41688240324791, 41688240357559, 41688240390327, 41688240423095, 41688240455863, 41688240488631, 41688240521399, 41262994260151, 41391811362999, 41382385844407, 41391811395767, 41382386106551, 41391811428535, 41382386139319, 41391811461303, 41382386204855, 41391811494071, 41382386303159, 41391811526839, 41382386368695, 41391811559607, 41382386499767, 41391811592375, 41382049906871, 41391811625143, 41382049939639, 41391811657911, 41828126654647, 41828126687415, 41828126720183, 41828126752951, 41828126785719, 41828126818487, 41828126851255, 41828126884023, 41828126949559, 41828126982327, 41919908315319, 41919908348087, 41919908380855, 41919908413623, 41919908446391, 41919908479159, 41919908511927, 41919908544695, 41919908577463, 41919908610231, 41919908642999, 41919908675767, 41919908708535, 41919908741303, 41919908774071, 41919908806839, 41919908839607, 41919908872375, 41919908905143, 41919908937911, 41919912542391, 41919912575159, 41919912607927, 41919912640695, 41919912673463, 41919912706231, 41919912738999, 41919912771767, 41919912804535, 41919912837303, 41919912870071, 41919912902839, 41919912935607, 41919912968375, 41919913001143, 41919913033911, 41919913066679, 41919913099447, 41919913132215, 41919913164983, 41919920832695, 41919920865463, 41919920898231, 41919920930999, 41919920963767, 41919920996535, 41919921029303, 41919921062071, 41919921094839, 41919921127607, 41919921160375, 41919921193143, 41919921225911, 41919921258679, 41919921291447, 41919921324215, 41919921356983, 41919921389751, 41919921422519, 41919921455287, 41919923650743, 41919923683511, 41919923716279, 41919923749047, 41919923781815, 41919923814583, 41919923847351, 41919923880119, 41919923912887, 41919923945655, 41919923978423, 41919924011191, 41919924043959, 41919924076727, 41919924109495, 41919924142263, 41919924175031, 41919924207799, 41919924240567, 41919924273335,